HoopsTube's Star of the night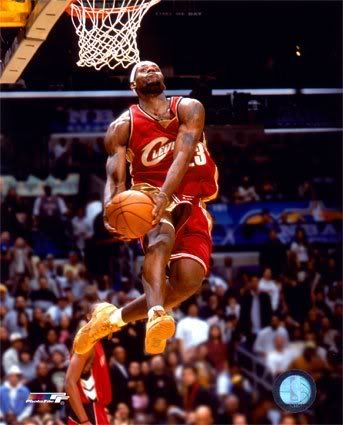 Lebron was simply huge tonight and flirted with a TD with 51 pts, 8 rebounds and 9 assists. And to make it even sweeter he got a OT 'W' for the Cavaliers over Grizzlies. He clocked 47:10 mins of game time and was team high in
FGM, 3PM and FTM
. 25 of his 51 points came in the 4th quarter and OT.
"When we win, it means a lot. Every point counted tonight,''
said James, who is averaging 29.8 points.
"I've lost a couple of games scoring 50 points, and I didn't like it too much. To have that accomplishment, and win the ballgame, means a lot.''
It's the 4th time this season when Lebron score more than 50 points.
As the Memphis coach Marc Iavaroni sums it up,
"LeBron is fantastic. I think he's got more passing ability than Magic (Johnson) because he can put it on a dime and with zip. It's a function of his ability to score. He allows people to get free. He's 6-foot-9, and he can see.''
Nice. ;)
Labels: Cleveland Cavaliers, Lebron James, NBA, Star